I'm so excited for vacation next week – I'm going back to PA to visit my family for the week and I get to use my mom's fabulous sewing room. It's a sewing sabbatical all week! I'm gathering up my favorite tools and supplies to pack in my bag, but here's a peek at what I'm aspiring to stitch up next week.
While in NYC for a work trip this week, I scored some beautiful fabric that would be perfect for a wedding I'm attending early next month. It's a turquoise fabric with a fuchsia hibiscus print and itscreams for some kind of retro summer sundress pattern like this McCall's pattern in my stash. I made this a looooong time ago and it was pretty simple to make, so all I need to do this time around is alter how the pattern fits. You can see my original dress from this pattern that I wore during Me-Made May here.
I also have a striped cotton that would be perfect for this empire waist sundress, a Fashion Star pattern from McCall's. I may not get around to sewing the actual dress until I get back, but I wanted to utilize my mom's cutting table so that I can easily get the stripes to line up properly when cutting out the pattern pieces. I'm not so good with striped fabric!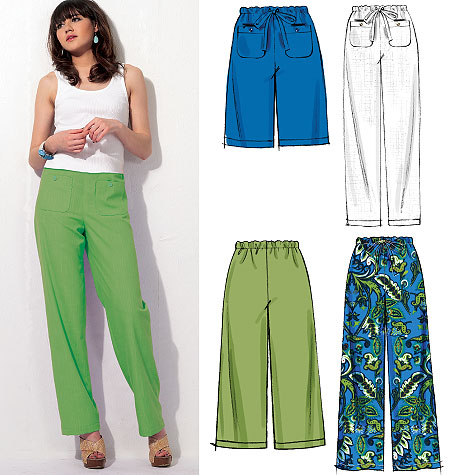 This year will be the year that I tackle pants. I made a pair earlier this year, just a pair of elastic waist wide leg pants, but that doesn't really count as making "real" pants in my book. Neither does this drawstring waist pattern, but I thought the pattern would be good for shorts out of the leftover fabric from my failed Vogue DKNY dress. This would also get "shorts" checked off of my 12 in 2012 list. Minus the patch pockets, please.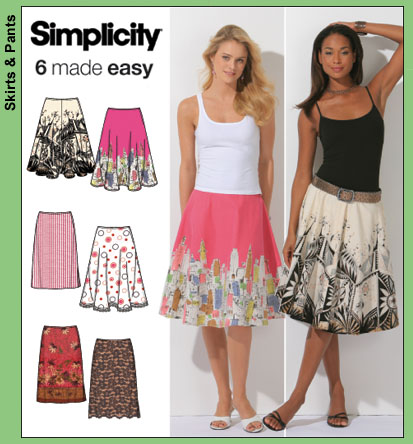 Speaking of 12 in 2012, I also want to make a half-circle skirt like this Simplicity 4236 pattern. I bought a black and white floral batiste earlier this year for a button-down blouse, but thought that if I lined it with white cotton, it would make a really fun skirt instead (it's a drag having to worry about a see-through skirt).
If I don't get everything made, which I expect I won't, it would be nice at least to get everything cut and prepped so that when I return to Boston, it would be easy to grab the fabric pieces for a project and just sit down and start sewing. Add on top of all the craziness at work that I'm moving in about three weeks and that definitely leaves little time for sewing between packing and work. This vacation will definitely give me the time I need to start wrapping up my summer sewing.
And then it's on to fall…I've already started gathering fabric!