Summer is over, as much as the current temperatures want to disagree with me. Kids are back in school, my beach vacation seems like a distant memory, and Indiesew just launched their new Fall Pattern Collection this week.
Oh yes, fall is here, my friends.
Indiesew, my new fave place for discovering independent sewing patterns, put together a curated collection of six patterns that can be mixed and matched to create the perfect outfit for fall, and asked me to create my perfect fall outfit from the collection. This resonated with me because of the exercises I went through earlier this year with The Wardobe Architect and sewing a wearable wardrobe. Depending on the fabric selection and styling, these patterns can truly fit any specific lifestyle.
What I've learned this year through thinking about my personal style and lifestyle is that I need more casual pieces that work well with the sneakers because of the nature of my job and industry. And with the amount of travelling I do for work, I also need these pieces to be comfortable and pack easily in a suitcase. So, it' seemed like a no-brainer to pair the Hudson Pants from the Fall Pattern Collection with the Lane Raglan, and throw in a chic carry-all bag like the Alice Book Bag.
Lane Raglan
I heart this raglan pattern so much and the way it fits. My first version of this pattern was made to look more like a sweatshirt, and to differentiate this version, I went for a baseball tee version with contrasting sleeves. The next time I make a long-sleeved version of this shirt, I'll shorten the sleeves – they're a bit long on me, but look cool pushed up and slouchy. The rayon poly fabric is ridiculously soft, so I'm sure I'll be reaching for this shirt a lot this fall.
Hudson Pants
The Hudson Pants are my favorite part of this outfit, because they're so different than anything I have in my closet and a much "cooler" silhouette than I usually gravitate towards. Since I wanted these to pass as ok to wear to the office or on the road, I picked a black cotton knit instead of a casual gray or printed knit – what makes the fabric special are the tonal polka dots knit into the fabric, aren't they the cutest? It honestly feels like PJs when I wear these, but these pants would be great for train trips to NYC or informal office meetings. The only thing I should have done differently is grade down the waist. I picked my size based on my hip measurement and the waist has a little too much fabric ease for my liking…I still love these pants though!
Also, you know that you've made something awesome when your boyfriend or husband hates it (Chris can't stand these pants). That's just a sewing truth.
Alice Book Bag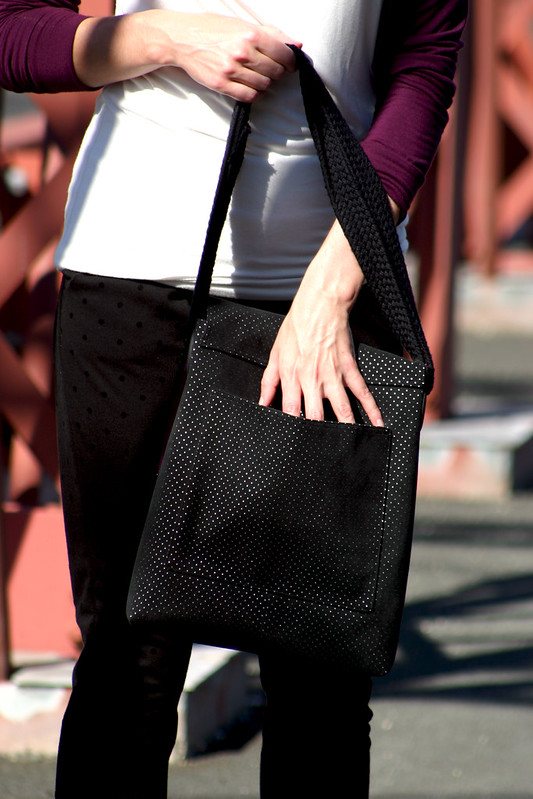 I wanted this bag to be just as cool as the rest of the outfit, and almost bought a beautiful home dec fabric with birds woven all over, but it wouldn't have fit the vibe I was going for. Instead, I found this awesome ultrasuede fabric with a metallic underlay – yes, there's holes punched in the ultrasuede for the metallic underlay to show through! Thank goodness I had a coupon for this pricey beauty.
This bag was incredibly easy to make, it's a bunch of rectangle pattern pieces you draft yourself based off of given measurements, and the bottom of the bag has boxed corners. I opted for the convertible strap option so I can wear the bag on my shoulder or as a cross-body.
The grommets are a really cool detail, they're actually curtain grommets! With the thickness of my fabric, it took a couple of tries to get them to fit, but they're totally worth it.
Thinking about starting your fall sewing? The Indiesew Fall Collection is a great place to start. All six patterns can be bought separately, but if you love all six like I do, the bundle can be purchased for 10% off.